| | | | |
| --- | --- | --- | --- |
| Click on Image to Check Price | Click on Name to Jump on My Review | | |
| | | Japanese AUS-10V Damascus Steel - 66 Layers | |
| | | Japanese AUS-10 Damascus Steel - 67 Layers | |
| | | Japanese VG-Max Damascus Steel - 69 Layers | |
| | | Japanese VG-10 Damascus Steel - 16 Layers | |
| | | Japanese AUS-10 Damascus Steel - 67 Layers | |
Best Japanese Chef Knife Under $200
1. DALSTRONG Shogun Series X Chef Knife – 8-Inch Japanese AUS-10V Super Steel 66-Layers Hammered Damascus Blade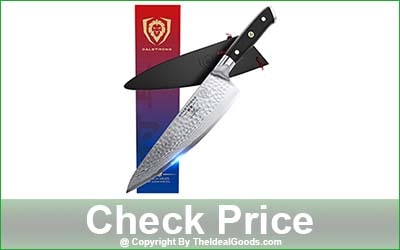 Dalstrong is known for its high-quality chef's knives as well as its affordability. The quality of the knives is derived from the amount of time it takes to make their Shogun knives, which takes 2 full months to create!
This 2.5mm thick and 8″ long blade is made of vacuum heat-treated Japanese AUS-10V super Steel (62-64 HRC) that is also surrounded by 66 Damascus layers of high carbon SUS410 stainless steel.
The Damascus cladding and precise cryogenic tempering with liquid nitrogen – all these series of steps give the blade long-lasting durability, robustness, and stain resistance.
This blade is made to do anything in the kitchen ranging from slicing, dicing, mincing, and chopping almost all food ingredients. The ability to cut through different foods and materials comes from the blade being sharpened with an 8-12° angle on both sides.
An ergonomically designed three-riveted handle with G-10 Garolite scales offers a firm pinch grip and comfort. Moreover, the mirror polish tapered bolster and an engraved end-cap for finger protection and a perfect counterbalance.
The knife weighs only 10 oz and comes with a high-quality PerfectFit polymer sheath.
These qualities plus affordability make the Shogun Series X a great kitchen accessory. This knife is not only great in the kitchen but comes with excellent customer service.
DALSTRONG recommends sharpening the knife only with high-quality 1000 grit and 6000 grit whetstones. Only hand wash as soon as it is used and dry immediately.
Pros
Premium-quality Japanese AUS-10V high-carbon steel with 67 layers of SUS410 Damascus cladding
The blade is super-sharp and holds a very nice edge for a long time
Hammered Tsuchime finish blade to reduce friction and prevent food from sticking
Military-grade G-10 Garolite handle scales are crafted with triple-riveted technique
Full tang construction for absolute stability and maneuverability
The knife can be used with both hands as it has a double bevel blade
Easy to clean
For the price, it is a very worthy knife
Buy with confidence, 100% satisfaction, or full money-back guarantee
Cons
Not dishwasher safe
I couldn't find any more cons
---
2. Zelite Infinity Professional Chef Knife – 8-Inch Japanese AUS-10 Super Stainless Steel 67-Layers Damascus Blade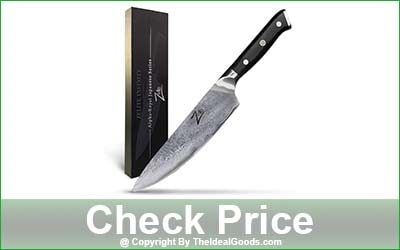 This Western-style chef's knife is handcrafted by the most experienced craftsmen in the world and is primarily made for professional chefs who cook in restaurants.
For your information, this is not a "Japanese knife" but a Chinese knife made of Japanese steel.
The core of the 8″ long blade is made of cryogenic heat-treated Japanese AUS-10 high carbon stainless steel (HRC: 60-62) and has 33 layers of soft stainless steel Damascus cladding on either side (Total 67 layers = 33 SS + 1 AUS-10 + 33 SS).
The "tsunami-rose" Damascus pattern is very nice to look at and covers almost the entire surface of the blade which protects the core from rust and stain. This means that the blade can be sharpened very quickly and will be able to hold the razor-sharp edge for a long time.
The blade is double-beveled and sharpened at a 12° angle with which you can easily cut raw fish, meat, steak, chicken, and vegetables into thin slices.
The full-tang handle is crafted with military-grade G-10 scales that are perfectly attached by triple rivets. The ergonomic handle is well shaped, easy to hold and G-10 gives a pinch grip.
The stainless steel bolster and end-cap also ensure a perfect balance between the blade and handle, allowing you to use the knife fatigue-freely for a long time.
High carbon steel blades rust quickly which requires a lot of care and maintenance. So after each use, they should be cleaned and dried quickly and light oil spray should be added to stop rust. Hand wash only, never dare to put it in the dishwasher.
Pros
67 layers of Damascus Japanese AUS-10 super stainless steel blade
Easy to re-sharpen and holds a longer-lasting edge
Being a double bevel knife you can use it with both hands
The triple-riveted full-tang handle feels sturdy and well-balanced in the hand
Excellent balance ensures fatigue-free use for a long
Great quality knife, perfect well worth the money
Buy with confidence because there is a full money-back guarantee and lifetime warranty
Cons
No sheath comes with the knife. However, the box in which it comes can be used for storage and transportation.
---
3. Shun Classic Chef's Knife – 8-Inch Japanese VG-Max Super Steel 69-Layers Damascus Blade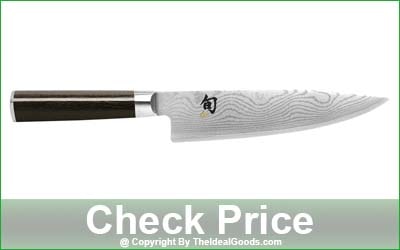 The Shun Classic is the gold standard of high-end knives. The knife is handcrafted and hand-sharpened to a 16 degrees steeper angle by the master artisans in Japan.
The blade is made with VG-Max super steel that is also sandwiched by 34 layers of stainless steel on each side (total 69 layers), which gives it a gorgeous Damascus finish.
VG-MAX is an upgraded formula of VG-10 steel that has additional chromium for more resistance to corrosion, extra tungsten for the ultra-sharp edge with better holding capability, and additional carbon and cobalt for improving strength and durability.
Not only is Damascus cladding beautiful, but the additional layers of steel help further protect the blade from chipping, staining, pitting, and rust.
The traditional Japanese-style handle is full tang and made of Pakkawood which is also waterproof, fitting the overall theme of Shun's concern over durability and resilience. The ergonomic handle is also not symmetrical, which allows the user to hold the knife with the utmost comfort and control.
To maintain the life span of your knife, hand wash and dry thoroughly after every use; do not wash in the dishwasher.
Pros
Ultra-premium VG-MAX high carbon stainless steel blade
The blade is razor-sharp with improved edge retention
Artistic 69 layers of Damascus cladding
The waterproof PakkaWood handle is easy to clean and will not harbor bacteria
Solid construction with full tang design
Shun Classic is made in Japan
It comes with a lifetime warranty and lifetime sharpening
Cons
Not dishwasher safe
The cutting edge of the blade is relatively thin
---
4. Yoshihiro Gyuto Japanese Chefs Knife – 9.5-Inch Japanese VG-10 Stainless Steel 16-Layer Hammered Damascus Blade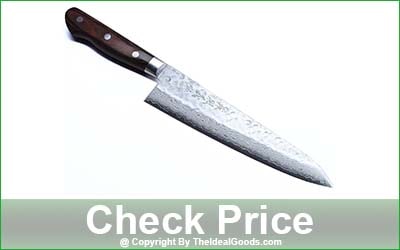 Yoshihiro offers many different lines of premium Japanese kitchen knives on the market which allows the customer to pick a handcrafted knife that fits one's own liking.
The Yoshihiro Gyuto is incredible, though, for those who are used to western-style knives but want to experience the artisanal Japanese knife.
The blade core is made of forged Japanese VG-10 stainless steel (HRC: 60-61) and is surrounded by water-resistant soft steel (7 layers soft steel + 1 layer VG-10 center core + 8 layers soft steel) to create long-lasting durability.
This knife is crafted with a 50/50 bevel at a 15-degree angle which allows users to use it regardless if one is left or right-handed.
The knife has a 70/30 grind which allows for increased sharpness and glides through materials effortlessly. In terms of artistry, the 9.5" long and 3mm thick blade comes with a hammered Damascus finish.
The western-style Mahogany wood handle features a light curve design that ensures excellent grip and fatigue-free use.
The balance of the knife is very suitable for cutting, as the weight of the full tang structure, 3 rivets, and mirror polished bolster spread evenly without being heavy on the front or back side.
Traditional Japanese knives require regular maintenance, so hand wash and dry quickly after each use. Use only good-quality water whetstones for sharpening. Avoid cutting bones, nutshells, and frozen foods with this knife.
Like other high-end Japanese chef knives, this knife is incredibly sharp right out of the box and comes with a thin plastic sheath and a beautiful gold decorative box.
Although there is a limited lifetime warranty, it does not cover blade chipping, braking, user abuse, or accidents.
Pros
The knife is suitable for all levels of chefs
16 layers Damascus cladding with premium quality Japanese VG-10 steel core
The hammered texture finish reduces friction between the food and blade
The Japanese steel blade is easy to re-sharpening and holds its edge well
The ergonomically designed premium Mahogany wood handle looks luxurious
Full tang design for solid construction
Yoshihiro Gyuto is made in Japan by the most skilled craftsmen
Cons
Higher price range
The knife is not dishwasher safe
---
5. Zelite Infinity Alpha-Royal Series Santoku Knife – 7-Inch Japanese AUS-10 Super Steel 67-Layer Damascus Blade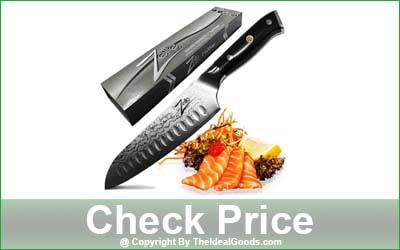 The 7" long blade has a Japanese AUS-10 super steel (HRC 61-62) core with 33 layers of high carbon stainless steel Damascus cladding on either side (33-layers HCST + 1-layer AUS-10 center core + 33-layers HCST). Since most of the core of the blade is covered by Damascus cladding, it is quite stain and rust-resistant.
Exquisite "Tsunami-Rose" Damascus pattern and precise cryogenic tempering technique with liquid nitrogen significantly increase the strength and toughness of the blade. Such characteristics help it to re-sharpen quickly and maintain that sharpness for a long time.
In addition, the blade has hollow dimples which create air pockets to prevent food from sticking to the blade.
The super-strong triple-riveted handle comes with durable G-10 scales. The handle is much easier to hold as it is almost round in shape. Also, the mosaic rivets and G-10 scales provide a comfortable and non-slip grip.
Most importantly, this full tang design Santoku has a rare tapered bolster and an end cap which makes this knife stronger as well as gives the user a perfect balance.
Never use a dishwasher to clean the knife as it can cause rust spots and damage the edges. After each use, just hand wash with light hot water and dry quickly.
Buy it risk-free because the company will refund you in full if you are not satisfied.
Pros
Premium quality Japanese AUS-10 steel blade with 67-layer of Damascus cladding
Double bevel blade, sharpen 10-12° angle on both sides for right and left-handed use
The blade is razor-sharp and has superb edge retention
Crafted with hollow dimples for fast and hassle-free cutting
Full tang that is triple riveted to the handle for precise control
Excellent quality for the price
Lifetime warranty against production defects
Cons
The only downside is the knife does not come with a sheath. However, the box in which it comes can be used for storage and transportation.
---
You May Like: