| | | | |
| --- | --- | --- | --- |
| Click on Image to Check Price | Click on Name to Jump on My Review | | |
| | | German HC Stainless Steel | |
| | | European HC Stainless Steel | |
| | | | |
| | | Japanese HC Stainless Steel | Santoprene & Polypropylene |
| | | HC German Stainless Steel | |
| | | | |
---
Best Knife for Cutting Prime Ribs, Roast, Ham, Brisket, and Turkey
---
1. Dalstrong Gladiator Series 12-Inch German High Carbon Stainless Steel Slicing Knife for Cutting Prime Ribs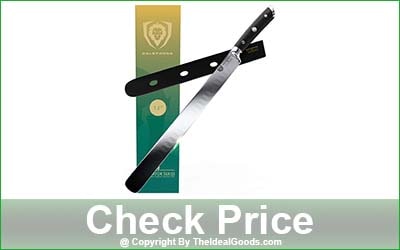 If you need an all-purpose long carving knife that can slice large ribs, roast, ham, brisket, turkey, or prepping fruits and vegetables then Dalstrong 12″ slicer will be the best for you.
This 12″ long slicer blade is precision forged and carefully made from a single piece of premium quality high carbon stainless steel (56-58 HRC) which is imported from Germany.
Besides, this type of tapered German steel is known for its excellent hardness, stain-proof characteristics, and outstanding edge retention capability. It is hand-sharpened at a 14-16° angle on both sides.
The blade is designed with identical dimples in rows on either side of the blade which creates air pockets to reduce drag between the blade and food. The process helps the blade to easily pass through the prime ribs and slice into thinner pieces.
The handle scales of the knife are made from G-10 Garolite. The triple-riveted handle with full tang structure not only makes this knife durable but also takes it to the highest level in its category.
Moreover, the mirror-polished bolster and end-cap create a zero counterbalance for fatigue-free use and superior maneuverability. The ergonomic handle is good in size, easy to hold, and gives a firm pinch grip.
To extend its lifespan you need to clean it properly after each use. Just hand wash it with warm water and dry right away with a towel or paper towel, don't put in the dishwasher.
Pros
Razor-sharp blade made from ThyssenKrupp German HC steel
Handle looks luxurious due to the engraving and mosaic
Full bolster for finger protection
Robust construction with full tang design
Hand polished beautiful satin finish
Dalstrong provides a water and stain proof, BPA-free sheath
Buy risk-free, full satisfaction or 100% money-back guarantee
Cons
No cons, really nice knife
---
2. Victorinox Fibrox Pro 12-Inch European High Carbon Stainless Steel Slicing Knife for Cutting Rib Roast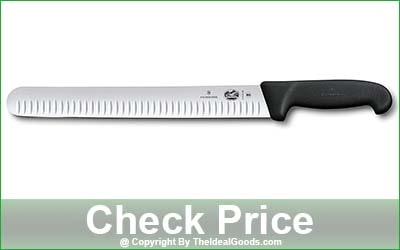 This Granton blade is made of high-quality European high carbon stainless steel. Due to its 12″ long razor-sharp edge, this knife smoothly slices all kinds of firm and soft meats.
European blade is famous for the fact that its edge holding capacity is much higher than other carbon steel blades. Once sharpened well, there is no need to sharpen again in a long time.
The Granton blade has a row of the same type of dimples which create tiny air pockets to minimize friction between the food and blade and prevent food from sticking.
The Fibrox Pro-made handle is designed with an ergonomic shape, its gently widen guards at the lower side of the handle will keep your hand in the right place as well as will prevent your hand from slipping in wet, oily, or sweaty conditions.
Although the knife is dishwasher-safe, the manufacturer recommends it should be washed and dried by hand immediately after every use.
Pros
Good-quality European HC stainless steel blade
Super edge retention capability
The blade is dishwasher safe
Patented Fibrox Pro handle for non-slip and comfortable grip
The lightweight knife has a hidden tang
It is manufactured in Switzerland
National Sanitary Foundation (NSF) approved knife
So good knife at a very low price
Cleaning is quite easy
The knife is backed by a lifetime warranty that protects against defects in material and workmanship.
Cons
The knife doesn't come with a protective sheath or cover
---
3. Mairico Ultra Sharp Premium 11-inch Stainless Steel Carving Knife for Cutting Ribs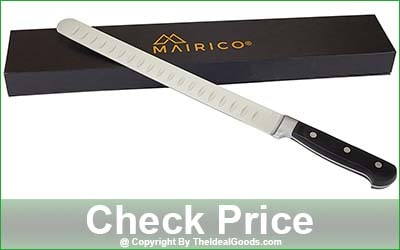 The manufacturer has used premium quality stainless steel to make this 11″ blade which is rust-resistant. These types of steel blades are a bit difficult to sharpen but once sharpen they are able to hold their edge for a long time.
The blade is enough long and very sharp so you can cut ham, ribs, roast, turkey, brisket, pork loins, and smoked salmon effortlessly without any extra knives or hassles.
In addition, the small dimples of the blade create air pockets to prevent the meat or food from sticking to the blade.
The three-riveted construction of the handle feels sturdy and comfortable. Although I'm not sure what material the scales are made of, it seems to me to be solid plastic.
Its decent size handle provides a good grip as well as will fit perfectly in your hand.
The balance between the handle and the blade has been adjusted with a very efficient weight distribution through the full tang design and the bolster.
If you want to use the knife for a long time, wash it by hand and dry immediately after using it.
Pros
Non-staining blade made from high-quality stainless steel
Bolster protects your finger from the sharp edge
The full tang handle is very solid and easy to hold
High-quality knife at a very low price
100% satisfaction or full money-back guarantee
It comes in a very nice storage box
Cons
No cons, really nice knife
---
4. Mercer Culinary Millennia 14-Inch Japanese High Carbon Stainless Steel Slicer for Prime Ribs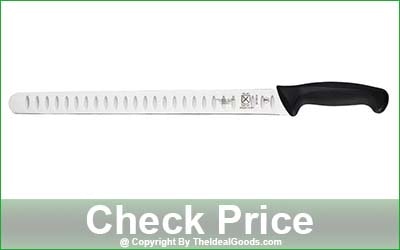 Its 14″ plain edge blade is crafted from one piece of Japanese high-carbon stainless steel. Japanese knives are famous for easy re-sharpening and take razor-sharp edges much faster than German knives.
Being stainless steel, it prevents corrosion, rust, and discoloration, making it much easier to maintain.
For hassle-free cutting of large steaks or prime ribs, the blade has alternate style dimples that create small air pockets to reduce friction between food and the blade.
The ergonomic handle is made from two different materials; one is Santoprene which is for comfort and the other is polypropylene which increases durability.
If your hand becomes sweaty or oily when using this knife, the gently widen guards on both sides of the handle will prevent your hand from slipping and keep it in right place, which is a very important feature for the safety of your fingers.
Also, the textured finger points provide essential grip and control on the knife.
Always wash this knife by hand and dry immediately, never wash in the dishwasher.
Pros
Stain-resistant high-quality Japanese steel
The dimples are alternating, they are not aligned
Ergonomically designed handle provides firm holding and protection
All the parts of this knife are NSF certified
Millennia Granton Slicer is made in Taiwan
Amazing price for the quality of the knife
A limited lifetime warranty to back up the product
Cons
The only downside is that it doesn't come with a plastic sheath
---
5. Imarku 6-Inch German High Carbon Stainless Steel Boning Knife for Slicing Ribs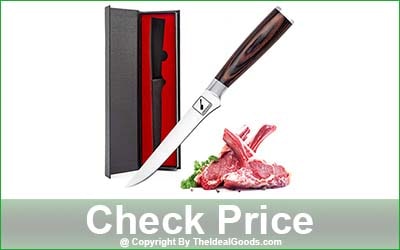 This 6″ boning blade is constructed from a single piece of imported German high-carbon stainless steel (HRC 56-58). The blade alloy is precision-forged that significantly improves its hardness as well as resistance against wear and stain.
The blade has been sharpened by hand at a 14-16° angle on each side. Due to the high-quality steel, the blade takes a razor-sharp edge very quickly and lasts a long time.
Ultra-sharp blade is very useful for de-boning, trimming, filleting, skinning, cutting ribs, and butterflying.
Its polished Pakkawood handle looks very beautiful and authentic. The ergonomically designed almost round-shaped handle is very comfortable to hold and gives a non-slip grip. Also easy to clean as it is highly waterproof.
Need to hand wash only and dried thoroughly. They will rust if you put them in the dishwasher.
Pros
Premium-quality HC German stainless steel blade
Full tang design with durable Pakkawood handle
Shining bolster and end cap for weight and balance
Not heavy, so it's easy to maneuver
Maintaining or cleaning is quite easy
High-quality knife at a relatively cheap price
No questions asked, 100% risk-free money-back lifetime guarantee
Cons
The knife is not dishwasher safe
Comes with a beautiful box but no protective sheath
---
6. Wüsthof Classic 2-Piece High Carbon Stainless Steel Carving Knife Set for Cutting Spare Ribs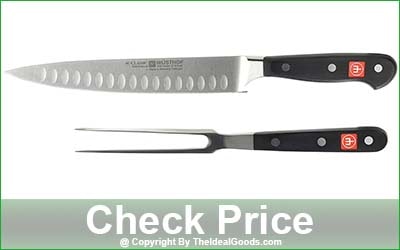 The set includes an 8″ long hollow edge carving knife and a 6″ long carving fork. When cutting large-sized ham, turkey, roast, ribs, or brisket, the meat fork holds the meat in the right place and helps the carving knife to slice efficiently.
The knife and fork are made from a single piece of premium quality high carbon stainless steel (HRC 58-60) which is precision-forged.
In addition, Westhof has used Precision Edge Technology (PEtec) which has increased the sharpness of the blade by 20% and the edge holding capacity twice as compared to the previous models.
The ergonomically designed triple-riveted handle features synthetic material – Polyoxymethylene (POM) scales which have a solid molecular form capable of resisting heat, fading, impact, and discoloration. The slightly curved full tang handle is easy to hold and gives a secure grip.
Hand wash immediately after use and never wash in the dishwasher as they will rust.
Cons
High-quality knife made by cutting-edge technology
Premium quality HC stainless steel blade
Super-strong handle is full tang and triple riveted
Full bolster provides balance and finger protection
Dimples reduce the fraction between the blade and food
Life span warranty from Wüsthof Company
The set is Made in Solingen, Germany
Pros
Dishwasher is harmful for the blades
The price is extremely high compared to the other ribs cutting knives I reviewed here
They come in a plastic package, I wish the knives had individual protective sheaths
---
You May Like: