In making this list, I rejected many knives that performed poorly during testing. For example, knives that do not cut steaks precisely, develop rust spots easily, are extremely heavy or bulky, cannot be sharpened easily, and dull quickly.
The main criteria I follow when choosing the best straight edge steak knife set are –
Blades must be precision forged, tapered, remarkably sharp, and hand-sharpened.
The handle of each knife will be ergonomic, full tang, and easy to clean.
The knives must be very beautiful to look at and well-made.
All selected brands must be renowned for providing value-for-money products and proper warranty service to customers.
Features Comparison Table of the Best Non-Serrated Steak Knife Sets in the World
| | | | |
| --- | --- | --- | --- |
| Click on Image to Check Price | Click on Name to Jump on My Review | | |
| | | High-Carbon German Stainless Steel | |
| | | German X50CrMoV15 Stainless Steel | |
| | | German High-Carbon Stainless Steel | |
| | | German High Carbon Stainless Steel | |
| | | German High Carbon Stainless Steel | |
| | | High Carbon Stainless Steel | |
| | | T420 High-Carbon Stainless Steel | |
| | | Japanese High Carbon Steel | |
| | | German High Carbon Stainless Steel | |
---
Review of the 9 Best Straight Edge Steak Knives
---
1. Dalstrong Gladiator Series 4-Piece Forged German ThyssenKrupp HC Steel Non Serrated Steak Knives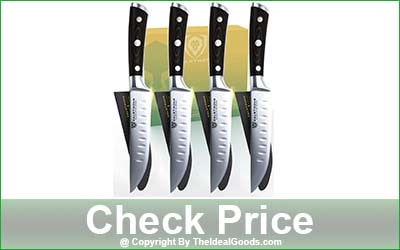 The Dalstrong set has 4 steak knives which are 5″ long straight-edge blades. The blades are made of a single piece of high-carbon German Thyssenkrupp stainless steel (HRC 56-58). The blade core has additional chromium for wear and stain resistance.
Also, it is perfectly forged and efficiently heat treated which improves its hardness, flexibility, and long-lasting edge holding ability. The ultra-sharp blades are hand-sharpened on both sides at an angle of 14-16 degrees.
Black military grade G10 handle features triple-riveted with an ergonomic shape for a secure grip and fatigue-free maneuverability. Its mirror-polished bolster and end-cap are manufactured from stainless steel for counterbalance and stability.
Never put them in a dishwasher, just hand wash in lukewarm water and dry right away, and oil the blades weekly.
Pros
Premium quality HC German stainless steel
Finger protective bolster
Full tang knives
Covered by a lifetime warranty
It can be easily cleaned
Each blade has a protective sheath
Cons
---
2. FOXEL 4-Piece Forged German Stainless Steel Straight Edge Steak Knives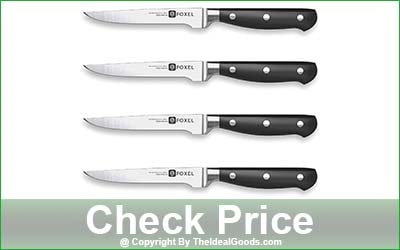 FOXEL non-serrated stack knives set comes with four 4.5″ blades. Blades are forged using high-quality German X50CrMoV15 stainless steel allowing it to maintain sharpness after long use. This steel has a hardness of 56-58 Rockwell allowing the edge to be easily sharpened.
All blades are sharpened at a 14-16 degree angle on both sides which is very effective for cutting neatly and non-sticky as it is a straight-edge knife. Explaining the feeling of cutting steaks with FOXEL's mercilessly sharp plain edge knife, it has to be said that they can slice soft-juicy steaks like butter. Also, the narrow blade works agile when removing soft meat from a bone.
Military Grade ABS handle is triple-riveted with an ergonomic design that provides a user-friendly and non-slip grip. You will like the handles, they are heavy and very comfortable as well as will fit nicely on the palm of your hand. The durable handle is resistant to cold, heat, moisture as well as easy to clean.
The set comes in a luxurious presentation box as well as individual protective covers for each knife. The knives are not dishwasher-safe, the manufacturer suggests that all blades should be hand-washed and dried thoroughly after each use.
Pros
Rust-resistant German stainless steel non-serrated blades
Sharp as a scalpel out of the box
Very good at holding an edge
Four steak knives are well built and have a full tang
The handles are very solid, robust, and well balanced
Forged bolster for counterweight and finger protection
Each knife has an individual protective cover
Buy with confidence, 100% satisfaction, or a full refund guarantee within 1 year
High quality set at a very affordable price
Cons
No lifetime warranty
They are a little heavy as steak knives
---
3. Emojoy 6-Piece German High-Carbon X50CrMoV15 Stainless Steel Straight Edge Steak Knives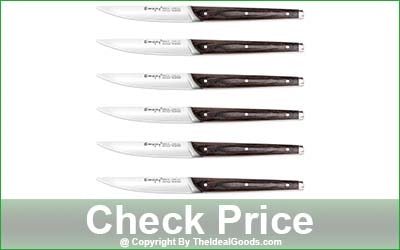 If you want a German steel steak knife set of 6 at a very low price, I don't think you'll find anything better than this Emojoy set. This set includes 6-Pc non-serrated steak knives whose blades are 4.5″ long and made of high-carbon German X50CrMoV15 stainless steel.
The blades are a bit thin but very sharp. The curved and slim-designed blades are able to cut a soft or juicy steak like butter without any kind of tearing. You will feel comfortable using it on the dining table for a long time because the knives are very light.
The full-tang handles use scales made of wood which are reinforced by three small rivets. The handle of the knife is slightly narrower from the blade to the butt which looks and feels like a pencil when held. Although the handles are not very thick or sturdy, you will not get any lack of balance while using them.
It offers a limited lifetime warranty as well as a risk-free 100% satisfaction or money-back guarantee. It is recommended to hand wash it with clean water, then wipe it right away with a dry cloth.
Pros
The most inexpensive set of straight blade steak knives on this list
High-carbon German steel blades are very resistant to corrosion
You will get pretty sharp blades when you receive them
Lightweight wood handles for easy handling
The full tang continues through the handle to the end
Limited lifetime warranty
A great set to gift to your family and friends
Cons
Re-sharpening takes time
They are not dishwasher safe
No sheath, only an elegant gift box
---
4. Wusthof Gourmet 6-Piece German Precise Laser Cut High Carbon Stainless Steel Fine Edge Steak Knives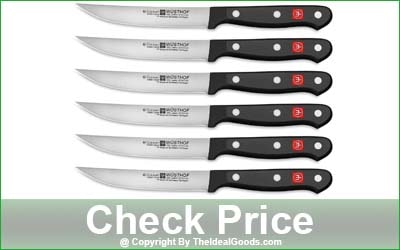 All the 6-piece steak knives are made of a single piece of tempered German high carbon stainless steel which ensures its long-lasting durability and strength.
Also, the blades are perfectly forged and precise laser cut that gives an outstanding razor-sharp edge and helps to retain its edge 30% longer than other methods.
The handle is created by uniquely developed synthetic polypropylene that resists impact, heat, fading, and discoloration. For proper balance with solid grip the ergonomically designed handle also have a full tang structure.
Use only hand wash when you need maintenance and let it dry immediately.
Pros
Premium quality German HC stainless steel
Wusthof's limited lifetime warranty
Set made in Solingen, Germany
All steak knives are full tang
Bolsters for finger protection
Cons
This is not a dishwasher ok set
No storage block included
---
5. Messermeister Avanta 4-Piece German High Carbon Stainless Steel Plain Edge Steak Knives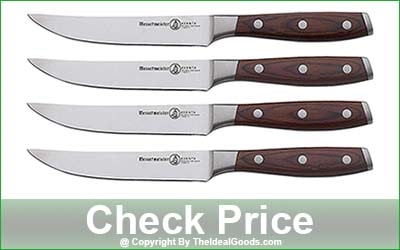 Blades of this steak knife set are made out of one-piece forged German X50CrMoV15 high carbon stainless steel. The 5″ fine edge blade takes and keeps a great edge for a long. It is coated with stains which increases resistance to rust and corrosion.
Separating meat from the bones seemed a lot easier to me because of the upward curved tip design. Nicely curved long blades are highly useful at slicing through the boneless parts of the meat.
The comfortable handle is crafted from beautiful Pakka wood. The triple-riveted handle weighs well due to the fully exposed full tang structure, forged bolster, and end cap. All these features provide good heft and balance.
They need to be hand-washed in lukewarm water and dry quickly with a towel. Never put it in the dishwasher. Also, refrain from using bleach or citrus extract cleaners.
Pros
German HC steel allows you re-sharpen easily
Solid construction with full tang design
The sturdy handle is comfortable, beautiful, and well balanced
High quality set at a very good price
Limited lifetime warranty that covers all forms of manufacturing defects and materials
Cons
Not dishwasher safe
Wooden handles are sensitive to water
These knives don't come with a block or sheath
---
6. Chicago Cutlery Fusion 6-Piece High Carbon Stainless Steel Straight Blade Edge Steak Knives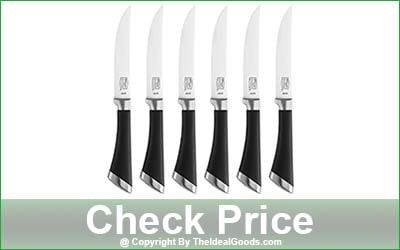 High carbon stainless steel has been used to make these 6-piece blades which are very good for optimal sharpness and easy re-sharpening.
One piece of fully forged steel that gives weight, strength, hardness, and corrosion resistance while holding an exceedingly sharp edge.
The soft polymer-made black handle is engineered with an agile shape, ensuring a comfortable and non-slip grip.
Blaster, end cap, and full tang ensure excellent balance and maneuverability. The shining blaster is not only beautiful to look at, but also provides finger protection.
Since the knives are made of carbon steel, regular maintenance is essential. For long-time use, only hand wash is recommended and dry immediately.
Pros
The 4.5″ blades are super sharp
So good at this low price
Warranty for the full lifetime
Single-piece steel made strong full-tang knives
Light enough compared to other steak knives
Cons
The blades are not dishwasher safe
The set does not include any block or sheath
---
7. Rada Cutlery 6-Piece Surgical-Grade T420 HC Stainless Steel Non Serrated Steak Knives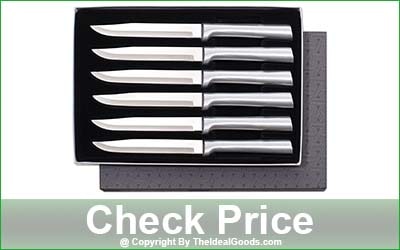 Its 4.7″ straight edge blades are manufactured from surgical-grade T420 high-carbon stainless steel. Due to the soft metal, it can be easily sharpened when needed.
This surgical-grade stell is 100% American-made and known for its durability, higher corrosion resistance as well as outstanding edge holding capability. The blade is thin and razor-sharp which makes slicing so much easier than thinker-blade knives.
The handles are made of permanently cast silver brushed aluminum and come with a satin finish. They are round in shape and easy to hold and use.
The set is also available in a black resin handle that is dishwasher safe.
Aluminum handle knives are not suitable for washing in the dishwasher, so only hand washing is recommended for cleaning.
They come in a beautiful gift box with a form-fitted flocked insert that holds them in right place.
Pros
The blades are dangerously super sharp
American-made steak knife set
Risk-free lifetime guarantee
The bolster protects the user's finger from accidental injury
For the money, they are very worthy knives
Cons
Blades are too thin and flimsy
The knives are not full tang
Handles are relatively small and not dishwasher safe
---
8. KYOKU Samurai Series 4-Piece Japanese High Carbon Steel Straight Blade Steak Knife Set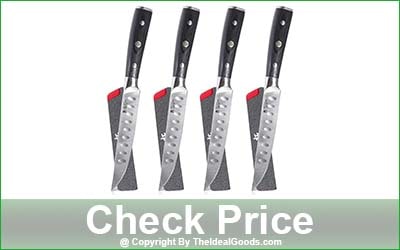 The 4-Pc straight blades in this set are made of Japanese high carbon steel with small dimples. The hollow dimples create small air pockets that stop the meat from sticking to the blade. The blades are 5″ long and they are quite sharp out of the box.
More importantly, the core alloy has gone through different processes such as Ice Tempered, Heat Treated, and traditional 3-step Honbazuke to increase hardness, sharpness, and flexibility.
Besides, the biggest advantage of cryogenically treated blades is that they have very good rust and corrosion resistance and do not get dull fast even after regular use.
Black Pakkawood handles are triple-riveted and have a mosaic pin in the middle to look luxurious. Wooden handles are made in full tang design and have shining bolster and caps for durability and counterweight.
The handles are a bit round and have enough weight according to the size which will make you feel hefty. Easy to hold and use, provides essential leverage for cutting soft and juicy steaks.
For protection, the set includes factory-fitted sheaths with flocking inside. Wash them by hand after each use and dry them immediately with a towel or a paper towel then place on the sheath.
Pros
For beginners, this is a very affordable set compared to the quality of the knives
Meticulously constructed Japanese high carbon steel cutting cores
The edge holding capacity of cryogenically treated blades is very good
Handcrafted blades are sharpened by master artisans
Hollow ground blade for non-stick characteristic
Wooden handles are able to withstand cold, heat, and moisture
Easy to clean, so maintenance is low
KYOKU knives come with a lifetime warranty and factory-fitted sheaths
Cons
Knives are not dishwasher safe
---
9. Legendary Chef 4-Piece German High Carbon Stainless Steel Plain Blade Steak Knives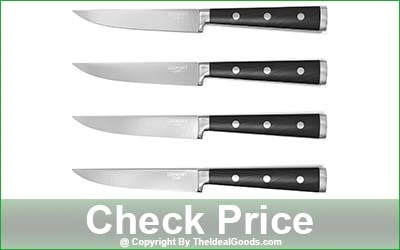 The four pieces blade of this set is made from top-quality German high carbon stainless steel. The plain edge blades are 4.5″ long and super sharp which allows you to cut the steak neatly without any shredding.
The blades are relatively thick so inexperienced users may have some difficulty while cutting juicy or soft steaks. In addition, they are able to maintain their sharpness for a long time, but re-sharpening is a bit time-consuming and a little difficult.
However, since they are muscular enough, if you can use them carefully, you can use the knives for lifelong.
The stylish handles are crafted from black walnut wood and three glossy rivets are used to attach the scales with the full tang structure. The handles are elliptical in shape and its finish is very smooth so you will get enough grip without any discomfort while using.
Most importantly, the handles have been given a full tang design as well as a bolster and an end cap to make the handles even stronger and more balanced. They will feel strong enough in your hand when you hold them.
Knives are not dishwasher safe so just hand wash and clean them after each use and dry them immediately after washing. Only this process will ensure that there will be no possibility of any kind of rust.
Pros
A 4-Piece set is immensely valuable for the money
Rust and corrosion-free German steel blades
Handles are full tang for incredible robustness and quality
You will feel very comfortable while holding and using the knives
The bolster will keep your fingers safe
These knives require very low maintenance
The manufacturer offers a lifetime warranty on all their knives
Cons
They just do not fit the dishwasher
The set comes with a decent giftable package, no individual sheath cover
---
Frequently Asked Questions About the Best Non-Serrated Steak Knife (FAQ)
Question: Who needs a steak knife set?
Answer: Meats such as lamb, steak, and pork need a freshly sharpened steak knife to get through the meat. Any experienced cook would agree that a steak knife set is almost a must need in the kitchen.
Its versatility allows you to get through any job with ease. Whether you are trimming fat off the pork, slicing cherry tomatoes, or even serving a dish of top-quality meat, a good steak knife set will enable you to get through any tough task with proficiency.
Question: How long is a steak knife?
Answer: An adequate steak knife falls in a region of 8-10 inches in length. This length allows you to drive a well-placed slice through any choice of thick meat.
Question: Which is better serrated or non-serrated steak knife?
Answer: Serrated blades usually stay sharper longer than straight edge steak knives, but re-sharpening serrated edges are much harder than a plain edge.
Fibrous meat can be sliced better with a serrated steak knife than with non-serrated.
It is often seen that when you try to cut the soft juicy steak with a serrated blade, it tears the meat cells and reduces the taste. On the other hand, it can be cut precisely with a straight-edge blade, leaving the taste and texture of the food intact.
A serrated steak knife set or plain edge steak knife set – it is actually hard to say which of these is better because the whole concept depends entirely on the user's taste.
Question: What are non-serrated steak knives for?
Answer: Straight edge steak knives are what should be used when you're looking for a steady and smooth cut. The razor-sharp edge of a non-serrated steak knife cuts neatly like butter without tearing your juicy and soft steak fibers. It is the preferred choice when it comes to dicing, slicing, chopping, and mincing.
Another advantage a plain edge knife has when it comes to steaks is cutting at an angle. Generally, if you're slicing a tough piece of steak on your own a serrated steak knife would be the way to go to cut the meat with ease.
On the other hand, if you're sharing a juicy steak the best thing to use would be a straight edge steak knife to cut the meat at an angle and share slices with individuals at the table.
Question: How well does the non-serrated steak knife cut?
Answer: A steak knife not serrated prevents you from harming the flesh of the fruit or meat and presenting it with a clean and steady cut. It allows you to chop vegetables with proficiency giving it a profound cut that qualifies a presentation on a charcuterie board.
When dealing with any fruits, soft-shelled vegetables, or even chili, a non-serrated steak knife would be the most ideal knife to use for the occasion.
Question: Can I use my non-serrated steak knife for anything else?
Answer: A straight edge knife would be perfect for slicing or cutting vegetables like tomatoes, cherry, chili, and leaving the slices nice and thin, cutting a lemon or avocado into wedges to share with friends and family at the dinner table.
Question: How do you sharpen a ‍straight edge steak knife?
Answer: To sharpen the steak knife, first, soak your whetstones thoroughly. Then find out the angle of the sharp edge of the blade.
You want to guide the knife along the whetstone in the direction of the blade; never press your blade forward into the stone.
A good number of strokes to start with is 10-20 strokes on the first side, 10-20 on the other, and then gradually reduce strokes until you're down to one and one — one on one side and one on the other.
Question: What material is best for steak knives?
Answer: Steak knives are made of different types of materials or steels. Some leading materials are – high carbon stainless steel, standard stainless steel, Damascus steel, and ceramic steel. Although each of these materials has some advantages and disadvantages.
However, high carbon stainless steel is the best for making steak knives. Because the blades are made of this steel can be sharpened very easily and the sharpness lasts for a long time. Additionally, their ductility and durability are also very good. However, if you want to use them year after year, you need to take proper care of them regularly.
---
You May Like: