| | | | |
| --- | --- | --- | --- |
| Click on Image to Check Price | Click on Name to Jump on My Review | | |
| | | Japanese AUS-10V Damascus Steel - 66 Layers | |
| | | Japanese VG-10 Damascus Steel - 67 Layers | |
| | | Japanese VG-MAX Damascus Steel - 69 Layers | |
| | | HC 10Cr15CoMoV Damascus Steel - 67 Layers | |
| | | Japanese VG-10 Damascus Steel - 67 Layers | |
---
Best Damascus Steak Knife Set
---
1. DALSTRONG Shogun Series 4-Piece Japanese AUS-10V Super Steel Damascus Steak Knife Set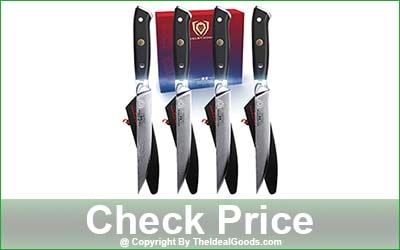 The 5″ long plain edge blades are made from 67-layers of forged Japanese Damascus steel. AUS-10V super steel (62+ Rockwell hardness) is used as a core alloy and the core steel is covered on both sides by 33 + 33 = 66 layers of high-carbon stainless steel.
Moreover, specialized cryogenic heat treatment processes have remarkably improved the hardness, flexibility, and rust resistance so that the blades can retain their sharpness for a long time.
The blades are hand sharpened on both sides at an angle of 8-12° by the skilled craftsmen in the traditional 3-step Honbazuke method which ensure perfect and cleanly slices of the juice steaks while keeping the flavor intact.
Military-grade black G-10 Garolite scales and three rivets are used to make the handle that gives great agility and non-slip grip. Since G-10 is resistant to cold, heat, impact, and moisture, it will not change with prolonged use.
The handles are hand-polished which will make you feel smooth and comfortable enough. Also, each knife has a full tang design, polished baluster, and end cap which gives the user great balance and control by spreading the weight of the knife evenly.
Buy with confidence because if you are not 100% satisfied, there is a full refund guarantee. You will also get a limited lifetime warranty that covers any defects in materials and workmanship.
I recommend only hand washing after use, they will be harmed if you use the dishwasher.
Pros
Premium quality 67-layers Japanese super Damascus steel steak knives
Blades are heat treated and Nitrogen tempered for the best performance
All the blades are extremely razor-sharp and hold their edges very well
Full tang G-10 handle with triple-riveted for superb robustness and durability
Copper mosaic center rivet enhances handle grip and beauty
DALSTRONG provides four plastic sheaths to protect the knives
4-pc high-quality non-serrated steak knife set comes with both warranty and guarantee
Cons
---
2. KYOKU Daimyo Series 4-Piece Japanese VG-10 Damascus Steel Non-Serrated Steak Knife Set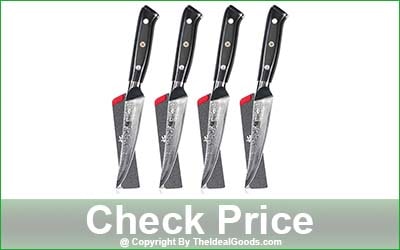 All the 4.5″ long 4-piece blades in this set are made from 67 layers of high-quality Japanese Damascus steel with VG-10 steel in the middle and 33 layers of soft stainless steel on both sides (33 layers SS + 1 layer VG-10 + 33 layers SS = total 67 layers).
Each steak knife is precisely crafted from one piece of imported super-strong Japanese high-carbon steel. Moreover, the cryogenic heat treatment process has significantly increased the flexibility, hardness, and rust resistance of blades.
The blades are hand-sharpened at an angle of 8-12 degrees on both sides by skilled craftsmen using the conventional 3-step Honbazuke method. The razor-sharp blades are slightly curved which is very agile for ‍cutting juicy steaks without spoiling the texture and flavor.
The scales of this knife handle are made from G-10 and are attached by three rivets. The G10 handles are resistant to temperature and moisture ‍as well as provide a good grip due to their ergonomic texture.
The full tang handles are designed with a shining bolster and end cap, which not only enhances its durability and beauty but also gives a proper balance and control to the user.
Due to the ideal size of the handles, they fit all user hand sizes which makes the knives more comfortable to use.
It should be hand washed after each use and dried quickly with a tissue or towel. Never try to wash them with a dishwasher and do not sink. Always sharpen VG-10 steel knives using high-quality whetstone and never try to sharpen with a metal sharpener.
Since the blades are very sharp, the company supplies a sheath with each knife for their safety.
Pros
Cryogenically treated Japanese VG-10 high-carbon Damascus steel blades
The blades have traditional hammer-beaten Damascus wave patterns which are very nice to look at
Triple-riveted handles will give you an ergonomic and comfortable grip
The knives are given a beautifully designed mosaic pin to make them look luxurious.
The set includes four individual protective plastic sheaths
The set has a lifetime warranty and you can return or exchange it if the product has any problem
Cons
The blades are not dishwasher safe
Edge retention is not good enough
---
3. Shun Classic 4-Piece Japanese Damascus VG-MAX Super Steel Steak Knife Set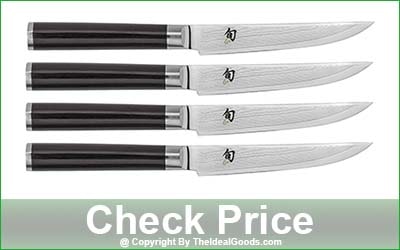 These 4-Pc steak knives are made from 69-layers of Japanese Damascus steel (HRC: 60-62) and high-end VG-MAX super steel is used as the core layer for best performance.
The cutting core of the Damascus steel is covered with a total of 34 + 34 = 68 layers of soft stainless steel on both sides, which makes the blades extraordinarily wear and corrosion-resistant.
The steel has to go through a precise heat treatment procedure that turns the blade harder and stronger so that the blade can be thinner, lighter, sharper, and able to hold sharp edge for a longer period of time.
The black handles are made from PakkaWood and have a shape like the capital letter "D". Japanese-style handles have enough smooth finish and traditional beauty.
When you hold them you will feel comfortable and get a firm grip because they have a low profile ridge on the right side. Despite being wooden handles, they are moisture and water-resistant so you can easily clean them.
After each use, just hand wash the knives and dry immediately before putting them back into the box.
Pros
Ultra-premium VG-MAX high carbon super steel blades
Its 69 micro-layers of Damascus cladding protects the blade from chipping
The blades are not only crazy-sharp, they can also hold sharp edges for a long time
The waterproof PakkaWood handle is easy to care and will not harbor bacteria
All the steak knives are full tang
Shun DMS-400 Classic is handcrafted in Japan
The steak knives came in the warranty for a lifetime
Cons
Can't be washed in a dishwasher
The wood handles are little small and light
The Damascus steak knife set of 4 comes in a decent black gift box that doesn't include any individual sheaths.
---
4. XINZUO 4-Piece Damascus 10Cr15CoMoV High-Carbon Steel Straight Edge Steak Knife Set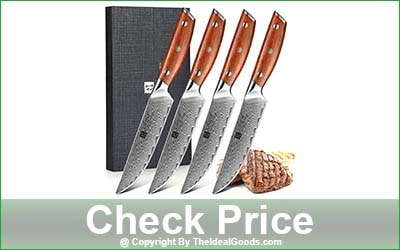 XINZUO Premium Dinner Knife Set includes 5″ long 4-piece steak knives. Straight edge blades are made from 67 layers of Damascus steel which has 10Cr15CoMoV high-carbon steel at the core and 33 layers of soft carbon steel cladding on either side.
This is not the end, the blade steel has to go through a vacuum heat treatment process due to which its hardness reaches 60-62 HRC. This type of heat-conducting method with Damascus layers not only made the steel rust and corrosion-resistant but also significantly increased the ability to hold the edges.
V-shaped sharpening technology is used to make the steak knives razor-sharp. In addition, many other crafting methods, including traditional wet manual cutting, have made the blades strong and durable.
These full-tang handles are made of natural rosewood which is perfectly attached by three rivets. Also, the handles are crafted from good quality natural wood so it is not likely to crack or deform quickly.
The wooden handles have a nice finish and natural color. These are not slippery at all because they have enough texture for a decent grip. The handles are very generally designed so that they provide a comfortable grip as well as perfect balance.
The knives come in a nice gift box. Never wash them in the dishwasher; always hand wash and dry instantly after use.
Pros
Heat treatment high-carbon Damascus steel blades
The artistic pattern of 67-layered Damascus cladding
Outstanding edge retention characteristics
The full-tang and the triple-riveted handle feels sturdy and well-balanced in the hand
Buy with confidence, full satisfaction, or 100% money-back guarantee
Cons
The knives are not dishwasher safe
Another downside is that knives do not have a separate cover or sheath
---
5. Supinity 4-Piece Japanese Damascus VG-10 Carbon Steel Non-Serrated Steak Knives Set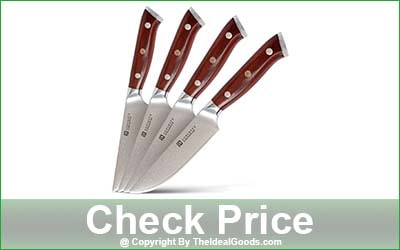 The 5" long scary sharp blades are made with 67 layers of Japanese Damascus steel. This Damascus steel is made like a sandwich that has premium quality VG-10 carbon steel on the core and Damascus cladding of a total of 66 layers of soft carbon steel with 33 + 33 on both sides of the core.
The blades have eye-catching wavy Damascus patterns that showcase their crafting skills. Also, the beauty of the blades will not easily lose as they are resistant to rust and corrosion.
High-quality blades have a very good ability to retain sharpness, so their sharp edges will remain intact even after regular use which means you don't have to worry about sharpening again and again.
Rich rosewood is used to make the triple-riveted handles. The handles are not only visually appealing but also water and moisture-proof which makes them easier to clean.
You will also get a comfortable non-slip grip as the handles have ergonomic curves and one mosaic rivet.
Full-tang, stainless steel bolster, end cap, and the triple-riveted design – all these features that have made these knives strong and well-balanced.
The manufacturer recommends hand washing with lukewarm water and mild detergent; rinse and dry right away. These knives should never be cleaned in the dishwasher.
Pros
Stain & corrosion resistant Japanese 67-layers Damascus VG-10 carbon steel blades
The blades are hand sharpened (angle of 14-16°) by most skilled craftsmen
Holds its edge 3X longer than retail steel
These plain-edged knives have wider bevels for neatly and efficiently cutting
Full tang and triple-riveted handle added more strength and durability
The set has a 30-day money-back guarantee and you will get a lifetime warranty for any manufacturer defects
Cons
Handles have a short feel
The set is not dishwasher safe
Comes in a nice-looking presentation box; no individual sheath or cover included
---
Read More Reviews of: