| | | | |
| --- | --- | --- | --- |
| Click on Image to Check Price | Click on Name to Jump on My Review | | |
| | | | |
| | | | |
| | | | |
| | | | |
| | | | |
| | | | |
---
Review of the Best Ceramic Knife Set
---
1. Wacool 3-Piece Ceramic Knife Set with Sheaths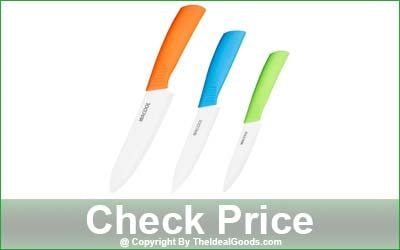 3-Pc Wacool knife set includes – 6″ chef's knife, 5″ utility knife, and 4″ fruit paring knife. The set also provides 3-piece BPA-free plastic sheaths.
The ceramic blades are made out of a proprietary blend of top-notch zirconia. Before being superheated, the core alloy is forged applying state-of-the-art Cold Isostatic Pressing (CIP) technique that improves the blade's hardness, strength, sharpness, resistance, and makes it more beautiful.
The best part is, these ceramic blades will never rust, nor absorb salts, oils, or food odors.
The handles are manufactured from food-grade plastic material that feels soft, rubbery, and very comfortable to hold. The handles also have a ribbing-like texture to ensure that you get a firm pinch grip and do not accidentally slip from your hand when using.
Do not use any hard cutting board like tile, marble, or glass for cutting anything. It is recommended to use only soft cutting boards such as plastic, bamboo, or wood.
These knives are made to cut things like fruits, vegetables or boneless meat so never use them for prying, carving, or boning.
Pros
Blades are super sharp
Holds its edge 15 times longer than steel
Handles of different colors for easy identification
Handle color matching plastic sheaths
100% money-back risk-free warranty
For the price, they are very worthy knives
Cons
Not dishwasher safe, only hand wash
---
2. Wolf War 5-Piece Ceramic Kitchen Knife Set with Sheath Covers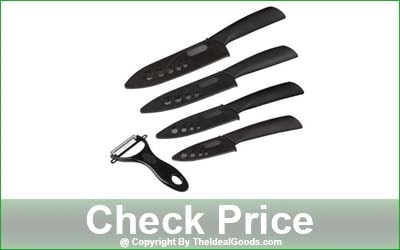 5-Pc Wolf War knife set includes – 6″ chef knife, 4″ fruit knife, 5″ utility knife, 3″ paring knife, and one peeler. All 4 size knives also come with black color plastic sheaths.
The metal grey-colored blades are made of zirconia ceramics which are almost as hard as diamond. For that reason, it is also called "Noble Knife" or "Gem Knife". Super sharp blades are perfectly resistant to stains and rust as well as able to hold their edge for a long time.
The most important feature of ‍a ceramic blade is that it does not absorb any food ingredients and will not leave any taste or odor on the blade.
The plastic handles have a rubbery surface that makes them smooth and comfortable. The arched shape design of the handle gives extra leverage for maximum control and performance. Also, anti-slip patterns provide sufficient grip when cutting fruits, vegetables, or boneless meat.
The blade can be chipped or broken if you try to cut bones, nutshells, frozen food, or accidentally falls from your hand. I suggest hand washing, using a dishwasher would hurt them.
Pros
Extremely hard and sharp blade
The handle design is solid and ergonomic
4 Protective sheath covers
Limited conditional warranty
Good for the price
Arrived in a very nice gift box
Cons
Cheap quality peeler
No different colors for easy identification
---
3. Takiup 6-Piece Ceramic Knife Set with Sheath Covers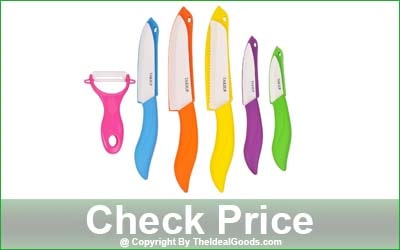 6-Pc Takiup ceramic kitchen knife set includes – 6″ chef knife, 4″ utility knife, 3″ paring knife, 5″ slicing knife, 6″ serrated bread knife, and a peeler. All 5 different size knives also come with a handle-color matching plastic sheath.
The ceramic blades of this set are made of zirconium oxide ‍that is 100% safe for health and the environment. High-density blades are extremely sharp and hard so they will not be easily blunted. Also, the odors of food will not be transferred due to the durable ceramic coating.
The beautiful brightly colored handles are made of food-grade plastic material. Due to the soft and rubber surface, the lightweight handles have a good grip and these will fit perfectly in your hand. The handle design is ergonomic which gives you essential control for slicing, dicing, chopping, or carving.
It is recommended to use it to cut bread, fruits, vegetables, and boneless meat. Never use for cutting hard or frozen food.
Pros
Blades are razor-sharp
Holds a very nice edge for a long time
Risk-free 100% satisfaction or money-back guarantee
Different colors for easy recognition
5 Protective sheath covers
For the money, they are a very worthy set
Cons
Half tang lightweight knives
Pillar quality is poor
---
4. Shenzhen Knives Kitchen 3-piece Ceramic Kitchen Knife Set with Sheaths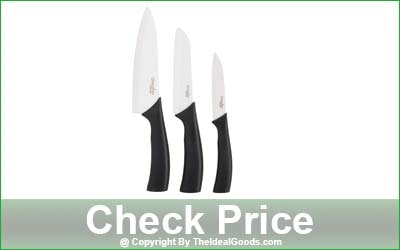 3-Pc Shenzhen knife set includes – 5″ slicing knife, 6.5″ chef's knife, and 4″ paring knife. It ‍also comes with a plastic tray to secure the knives in the drawer.
Advanced ceramic material is used for all 3-piece blades. It is harder than steel and holds its edges better than steel blades, so you don't have to sharpen them frequently.
These ceramic knives are resistant to oil, acid, grime, and rust and are also much easier to clean. The super sharp blades are designed to cut all kinds of fruits, vegetables, or soft meats precisely.
Ergonomic handles are made from food-grade ABS plastic. The design of the handles is comparatively better than the others, because they are softer, rubberized, and larger in size, so they fit my hand very well and I get enough grip.
If you want to use them for a long time; always hand washes them so they will never rust or stain. Never try to cut bones, frozen food, or anything on a hard surface.
Pros
Super hard and sharp blade
Retains sharp edge longer
Large handle good for a big hand
The set comes with a plastic tray
It has 90 days conditional warranty
Cons
Knives don't come with any protective sheath
---
5. Kyocera Revolution Series 3-Piece Advanced Ceramic Knife Set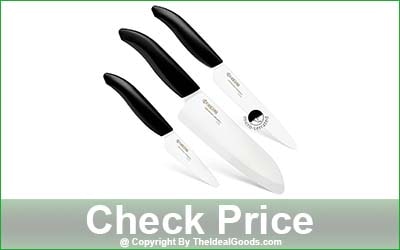 If one decides they enjoy the ceramic set and wishes to not buy the entry-level, rather the more professional, quality level, I recommend the Kyocera ceramic set. Kyocera 3-Pc knife set includes – a multipurpose 6" chef's knife, a smaller 3" paring knife, and a serrated 5" tomato knife for the preparation of all kinds of food.
The knives are made from pure advanced Japanese ceramic material zirconia. The blades are ultra-sharp, and Kyocera claims they will maintain the edge ten times longer than high carbon kitchen knife steel. The blades are resistant to rust and germs as well as being impervious to acids, salts, and oils.
Lightweight half tang knives have plastic handles that are basically made of polypropylene. Ergonomically planned handles are slightly softer and will feel comfortable in your hand when holding. Well-balanced handles will give you precise control when cutting meat or vegetables. It will fit perfectly in your hand and is also a lot easier to use.
It has a lifetime warranty against manufacturing defects as well as workmanship. However, you will not receive any warranty due to improper use of the knife or accidental damage. With that begin said, it is clearly worth the investment to use this versatile set for all kitchen preparation needs.
Pros
Premium quality Japanese zirconia is used for the ceramic blades
Ceramic knives weigh only half as much as traditional steel knives
The lightweight knives reduce fatigue during prolonged use or repetitive cutting
Knives are dishwasher safe, easy to clean, and take care of
Knives are made in Japan
Cons
Knives are not full tang
The grip of the handle seemed a little low to me
No protective sheath covers with the knives
As a 3-piece set, it seemed a bit expensive
---
6. HOMSPORT 3-Piece Ceramic Knife Set with Acrylic Block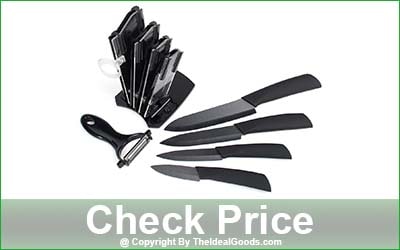 There are tiers of quality and price when it comes to ceramic knives. This starter set allows one to decide if they like the ceramic feel and cut. HOMSPORT 5-Pc knife set includes – 6″ chef knife, 5″ slicing knife, 4″ fruit slicer, 3″ fruit parer, peeler, and acrylic holder.
The knives are manufactured from a high-quality ceramic mixture that has been perfected over decades and does justice to the sharpness of these knives. Super hard ceramic blades are extremely sharp and, if used properly, will stay so longer than most knife blades.
A special surface not only protects the tasteless blades against odors and discoloration but also makes them perfectly suitable for allergy sufferers.
Nicely contour handles are made of ABS + TPR Plastic. When you hold them they will give you a comfortable rubber feel as well as a tight grip. Lightweight ceramic knives and simply designed handles are easy to use and handle.
HOMSPORT includes an acrylic block, reducing the chances of the ceramic blade chipping. For ceramic knives care and maintenance, these should be hand washed only and dried thoroughly; don't let them air dry.
Pros
Ceramic blades are super hard and sharp
They won't absorb food odors, test or smells
The fairly grippy handles are very comfortable
These will fit well even if the hand is large in size
Easy to care for and clean
The knives with the sleek block are beautiful
For the price, they are very affordable and worthy knives
Limited time conditional warranty
Cons
The blade and handle joint is not stiff enough
Hard or solid food cannot be cut with the knives
---
Frequently Asked Questions About the Best Ceramic Knife Set (FAQ)
Question: Why would you buy a ceramic knife set?
Answer: Ceramic knives are essential for those who need a lightweight knife to last them a long time.
The benefits of buying a ceramic knife are that they do not rust, the edge stays sharper than steel knives do, juices and acids from food don't corrode the blade overtime, and they have the ability to cut fruit and vegetables into thinner slices for those who chose to do so.
The astounding wonders of a ceramic knife set lie in its enduring lifespan. Truly a must-have knife in every kitchen.
Question: Are ceramic knives good?
Answer: Ceramic knives are exceptionally versatile, lighter, and easy to clean. It does almost everything a self-sharpening knife set would do, all in one.
It can cut through bread without compressing the bread into a disproportionate shape. A ceramic knife is delicate enough to prevent you from bruising any delicate fruit or vegetable but still allows you to apply the same force that a forged metal knife does.
Lastly, a ceramic knife prevents fruit and vegetables from oxidizing as well as would not absorb food odors. The flesh of an apple will remain a natural white longer when it is cut with a ceramic knife.
Question: What are ceramic knives used for?
Answer: Ceramic knives are extremely sharp, lightweight, and thin so they are mainly used for slicing fruits, vegetables, boneless meat, and even bread.
Question: What's the best way to use a ceramic knife?
Answer: The best way to use a ceramic knife would be to always cut straight up and down. A ceramic knife should never be twisted or flexed nor should it ever be used in intent to pry open a jar or crush food items simply due to the fact that it is prone to snapping.
Question: How to sharpen the ceramic knives?
Answer: Contrary to popular belief, ceramic knives do need to be sharpened in order to perform the best of cuts.
The proper way to sharpen a ceramic knife would be to use a diamond-encrusted sharpening block. The blade must be at a 15–20-degree angle to the block and glide the blade across the stone from heel to tip.
Given the material's toughness, a diamond-encrusted sharpening stone is almost a must-use for this particular knife.
Question: How do you care for a ceramic knife?
To avoid breaking or chipping the ceramic blade, please follow the instructions below:
Hold the ceramic knife well while using it as the knife may break if it suddenly falls from the hand to the floor.
Glass, stone, or marble as a cutting board is quite harmful.
Avoid plating or grating with the knife.
Avoid cutting hard things like frozen foods, bones, or fishbone.
Never twist the knife while cutting.
Never use the knife as a lever.
The blade can be broken off if used as sideways motion.
Question: Are ceramic knives dishwasher safe?
Answer: Ceramic knives do not have any type of metal molecular so 'technically' they are dishwasher safe. However, kitchen knives should not be cleaned in the dishwasher at all. This applies not only to Damascus steel, stainless-steel, or high carbon steel knives but also to ceramic knives too.
Question: Are ceramic knives and ceramic-coated knives the same?
Answer: Ceramic knives and ceramic-coated knives have similarities in between them but they also have their differences. Some similarities between these two types of knives are how sharp they come from the manufacturer.
These knives are known to be fragile and dangerous due to the sharpness of the blade edge. Furthermore, neither of these blades are prone to seeing rust within their prolonged lifespan.
The ceramic coating acts like an artificial metal that protects the iron underneath it. One difference between these two is that a ceramic knife can't be used as a carving knife due to the probability of it snapping if it comes under too much stress.
On the other hand, a ceramic-coated knife can indeed be used as a carving knife simply because underneath the ceramic coating lies the stainless-steel blade that gives it the strength necessary to get through any tough meal.
Overall ceramic-coated knives are cheap, flexible, durable, less fragile, but will not hold their edge longer and will not last longer than the original ceramic knife.
In conclusion, these two knives have their specific usage. They both are well renowned for getting the job done in the kitchen.
---
You May Like: